Back
NJSBDC Impact

FACT SHEET (FEDERAL FISCAL YEAR 2019 – 2021)
NETWORK-WIDE ECONOMIC IMPACT DELIVERABLES

The NJSBDC program, which is composed of 12 centers (statewide), provides management consulting, training, and other technical assistance to established small businesses and aspiring entrepreneurs in all 21 counties.  Impact of the program (Oct. 1, 2019-Dec. 31, 2021) is summarized below:
Counseled

15,798

clients (

one-on-one

); 

Delivered

59,033

total counseling hours

;
14,095

of all clients were

established businesses

;

1,049

clients

of NJSBDC started a new business

;

Sponsored

2,198

training sessions

statewide;

38,219

individuals/small business owners

attended training seminars

(on various business development/growth issues);

4,255

Total Jobs

supported

(SBDC clients' employees);

Facilitated

$318,596,295

in

total financing

(loans & equity) for its clients;

Clients

generated

more than $6.5 billion in sales revenues

, generating millions of dollars in business tax revenues to the overall Treasury and an estimated

$216 million

(conservatively) in sales tax revenues to NJ

.
Note:  Data impact from core SBA grant & other grant activity.
To Download – Click here or on the NJSBDC Impact Infographic below.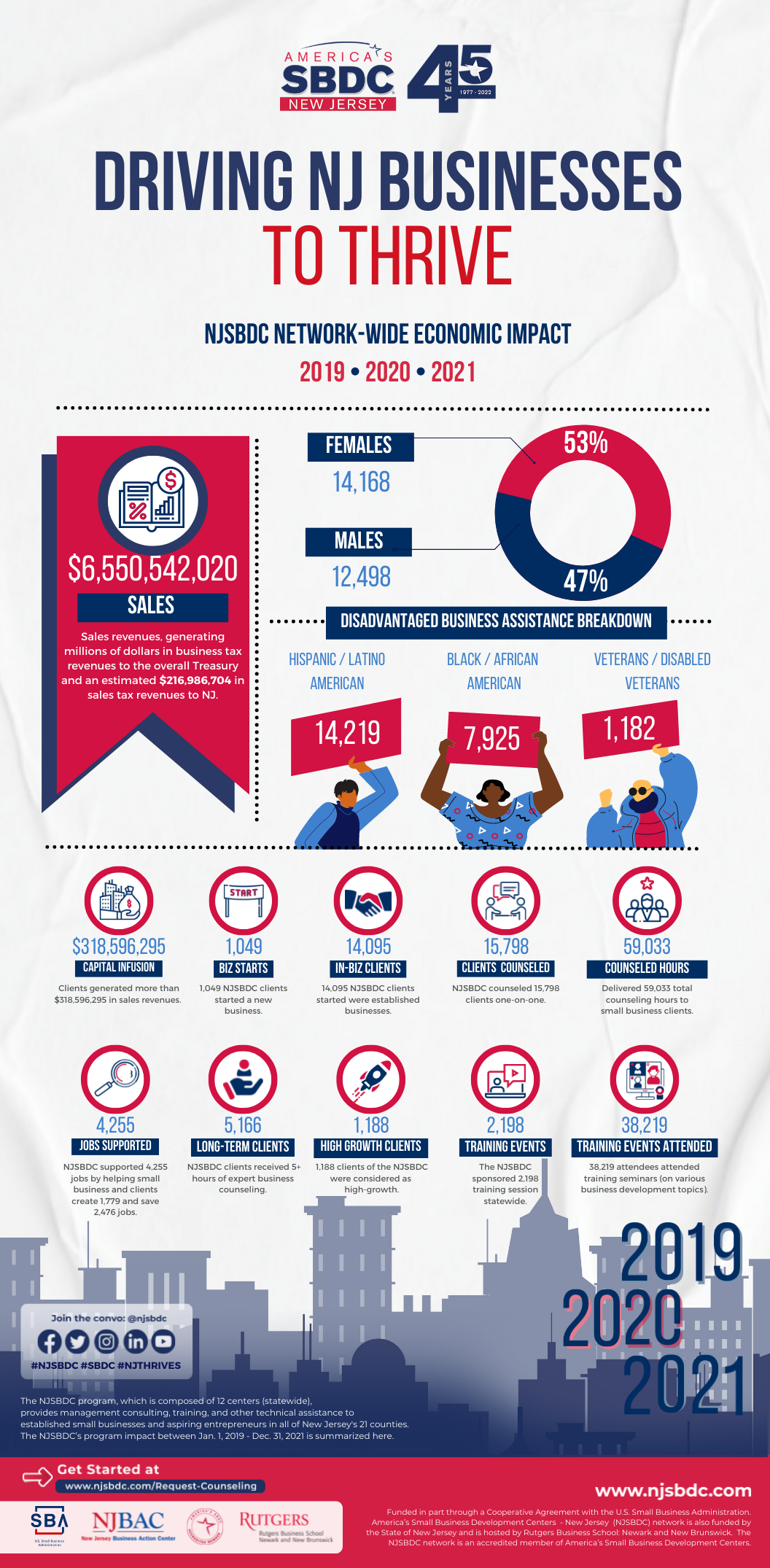 Network Partners & Sponsors
The New Jersey Sustainable Business program is funded by the USEPA, and is part of an EPA Region 2 Toxic Reductions initiative that also includes projects being conducted by the New York State Department of Environmental Conservation (NYSDEC), and New Jersey Institute of Technology (NJIT).
Join a Community of 13,000+ Small Businesses
By submitting this form, you are consenting to receive marketing emails from: America's Small Business Development Centers – New Jersey (NJSBDC), 1 Washington Park, Newark, NJ, 07102, US, https://www.njsbdc.com. You can revoke your consent to receive emails at any time by using the SafeUnsubscribe® link, found at the bottom of every email. Emails are serviced by Constant Contact.

Funded in part through a cooperative agreement with the U.S. Small Business Administration. All opinions, conclusions or recommendations expressed are those of the author(s) and do not necessarily reflect the views of the SBA. All services extended to the public on a non-discriminatory basis.