The New Jersey Small Business Development Center @ Rutgers-Newark is the premier provider of strategic, growth focused business training and technical assistance services to established small businesses and start-up entrepreneurs. Our mission is to help entrepreneurs and business owners start and grow sustainable, successful small business through the delivery of appropriate training and technical assistance services and programs.
Meet the Regional Director at Rutgers University-Newark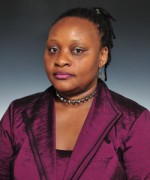 Tendai Ndoro, PHD
Regional Director
Dr. Tendai Ndoro has a PhD in Public Administration and is currently contracted as Regional Director for the NJSBDC at Rutgers-Newark/Rutgers Business School & NJSBDC statewide network. Dr. Ndoro has received numerous awards for her work as an economic development expert and business woman which include the 2014 ASBDC National State Start Award, 2013 Top Women in Power Impacting Diversity; 2012 NJ Garden State Woman of the Year – Global Impact Award, & the Minority Enterprise Advocate's 50 Women of Power in Business. In 2011 she received the WEN Business Award for promoting women. In 2010 she received the US Commercial Services International Trade Award for promoting international trade in the City of Newark, NJ. Dr. Ndoro is a trained Baldrige Examiner.