Article by Jeanmarie Tenuto
From the local, family-owned restaurants to physician practices, to auto mechanics to local franchisees, online marketing is so simple, very effective and quite affordable.  It has now become essential in growing the business.  Here are some tips that will show you how to begin growing your business through internet marketing:
Reach More Customers with the Click of a Button
With one click, you'll put your business in front of prospective customers who are ready to buy and make it easy for them to choose you.  Here are just a few ideas of tools and techniques you can use:
Content creation and publishing
Email marketing
Coupons and deals
Search engine optimization
Social media and reputation management
Business listing management
Be the Center of Conversations
Spread awareness about your business by publishing your content across the web. Here is a list of some of the places your marketing message could be distributed to:
Newswires, like NearSayand Google News
Coupons and deals sites, like 8Coupons.com
News publishers, like Google and Bing
Email directly to your subscriber's inboxes
Social media accounts, like Facebook, Twitter, LinkedIn and Google+
Ratings and review sites, like Yelp and Google My Business
Create Loyal Customers in Minutes a Day
Establish a presence for your business on major social media and review sites, such as Facebook, Twitter, LinkedIn, Google+ and Yelp.
Build followers by using Facebook advertising and keep them engaged with regular posts and updates.
Prioritizing and organizing social media posting and advertising, messages and customer reviews by using social media management system for brand management.
Increase Your Ranking on Major Search Engines
Make sure you are monitoring and adjusting, (when needed), your business in local searches.
Manage your business profile across business listing sites, apps and map sites to boost organic search and ensure customers get the right information every time.
Identify Your Goals and Stay on Point
Whether you want to increase new sales or build existing customer loyalty, stay on point and don't waver.
 Create a consistent business profile to use in online directories
 Review keyword selection
 Choose a topic for your monthly article
---
About the Author: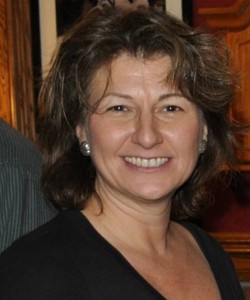 Jeanmarie Tenuto
Contributor
Jeanmarie Tenuto is the founder of Centaur Strategies
and marketing communications consultant. Jeanmarie works with the NJSBDC team to promote essential resources that help entrepreneurs and small business owners start-up, grow and succeed. Follow Jeanmarie on LinkedIn at
https://www.linkedin.com/in/jtenuto
.