#SBDC Day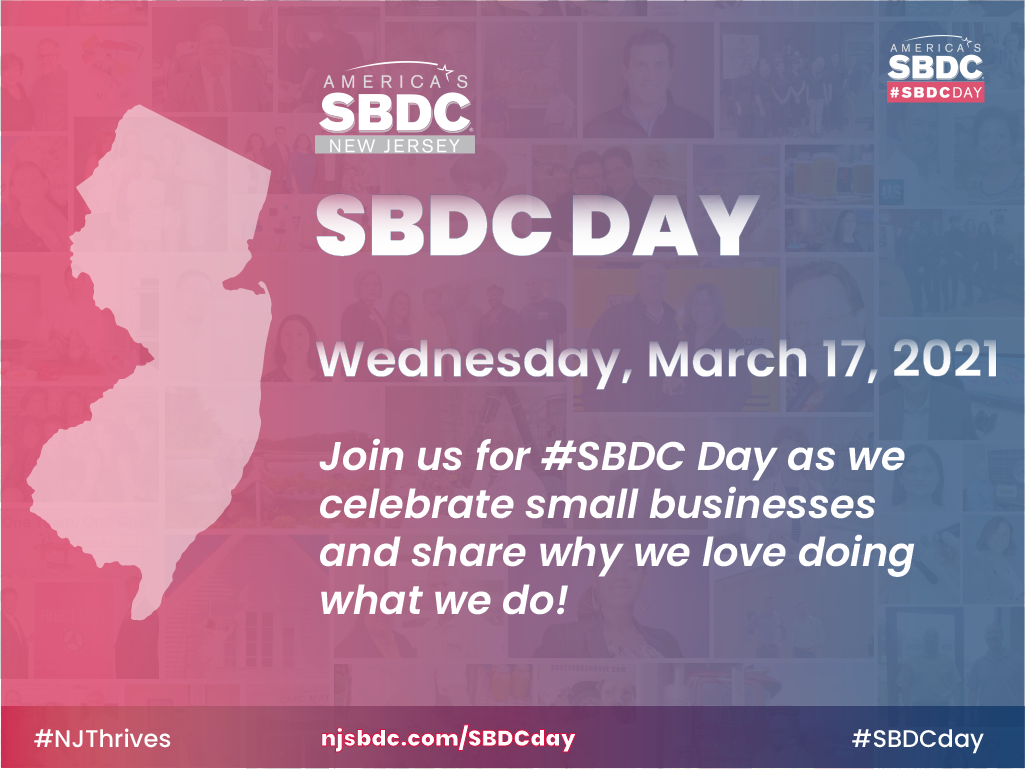 SBDC Day is a national, collective proclamation of the impact America's Small Business Development Centers (SBDCs) on the success of our nation's dreamers, innovators, and doers – America's small businesses. The fifth annual SBDC Day will take place on Wednesday, March 17, 2021.
The NJSBDC will spend the day doing what we love; counseling and training small businesses.  We will also share with you why we do what we do!
Join us on Twitter and Facebook as we share with you some insights over the past year.
Also, join us for some outstanding Training Sessions & Virtual Events!  See a quick list below:
————–
Featured Event:
To Register to "Ask the Experts", click HERE or the image above.
———————
Washington, D.C. – In these challenging times, America's Small Business Development Centers (SBDCs) play a critical role in assuring the health of small businesses: helping them access capital needed for growth, navigating the uncertainty of the market, providing advice on compliance with government regulations, and being first responders when natural disaster requires intensive and long-term consulting.
In 2021, we want to bring your attention to how every SBDC network across the United States and its territories continue to help to build our communities by providing vital resources during the most critical of times. Whether the business is in an underserved or rural community, exporting, an accelerator, or women-owned or a small business in crisis due to the covid-19 pandemic, SBDCshave stood up to their reputation to be steadfast and a pillar of support in each state and region.
With nearly 1,000 locations across the country, SBDCs are in every community providing local businesses and entrepreneurs with the resources need to succeed. America's SBDCs provide measurable economic results, in 2020 SBDCs helped generate; 91,767 jobs, $7 billion in sales growth; $6 billion in capital investments; and started 20,374 new businesses proving once again, SBDCs are leaders in job creation and economic growth.
"Our new virtual report beautifully articulates the depth and breadth of the SBDC Network, its services, and the myriad of businesses they serve. When poring over the 500+ stories and anecdotes about SBDC clients and their success, it's not surprising to learn that 95% of SBDC clients recommend SBDC services." said Charles "Tee" Rowe, America's SBDC President & CEO.
America's SBDCs help make the dream of small business ownership a reality for more Americans —creating jobs and opportunities that build communities throughout the nation. See the America's SBDC Annual Report online at www.sbdcimpact.org.
For questions on SBDC Day please contact marketing@americassbdc.org. Follow the hashtag #SBDCDay on social media!
To learn more about America's SBDC please visit  www.AmericasSBDC.org
Keys to International Trade Workshop
March 10, 2020
SBA Loan Process and Other Funding Options
March 24, 2020
NJSBDC Cares Webinar: Return to Work – Mental Health & Resiliency | Webinar | Wed., October 28, 2020 @ 12 – 1:30 pm
September 28, 2020
SBDC Tri-State Event – Latino Business Success: Moving Forward | Thursdays | October 1 – 22, 2020 @ 5 – 6:30 pm
September 29, 2020
NJSBDC Cares Webinar: Credit Restoration – How to Sustain It | Webinar | Wed., October 28, 2020 @ 4 – 5:30 pm
October 15, 2020
From Business Disruption to Business Success | Thurs., Jan. 28, 2021 @ 1-2:30 pm
January 21, 2021
Protecting Your Business From Cyber Fraud | Monday, February 8, 2021 @ 5 – 6:30 pm
February 2, 2021
Protecting Your Business From Cyber Fraud | Monday, February 16, 2021 @ 5 – 6:30 pm
February 2, 2021
Avoiding COVID Infections | February 17, 2021 @ 6:00 PM
February 5, 2021
Avoiding Credit Ruin | Thursday, February 18, 2021 @ 6:00 PM
February 5, 2021
Avoiding COVID Infections – Childcare Operations | Thursday, February 25, 2021 @ 12:00 PM
February 5, 2021
Avoiding COVID Infections | Wednesday, February 17, 2021 @ 6:00 PM
February 5, 2021
From Brick & Mortar to Google & Social Media | Thursday, February 25, 2021 @ 6:00 PM
February 5, 2021